Social Housing
NAMA continues to work closely with the Minister for Housing, Planning and Local Government in relation to the delivery of social housing and all parties remain committed to the maximum possible delivery of residential units under this important initiative
Through the course of the initiative, NAMA has identified 7,093 residential properties as being potentially suitable for social housing. The process of confirming demand and suitability is a matter for local authorities and is not something in which NAMA has a role. To date, 2,614 have been delivered for social housing use which is the majority (93%) of all those properties for which demand was confirmed and which remained vacant and available.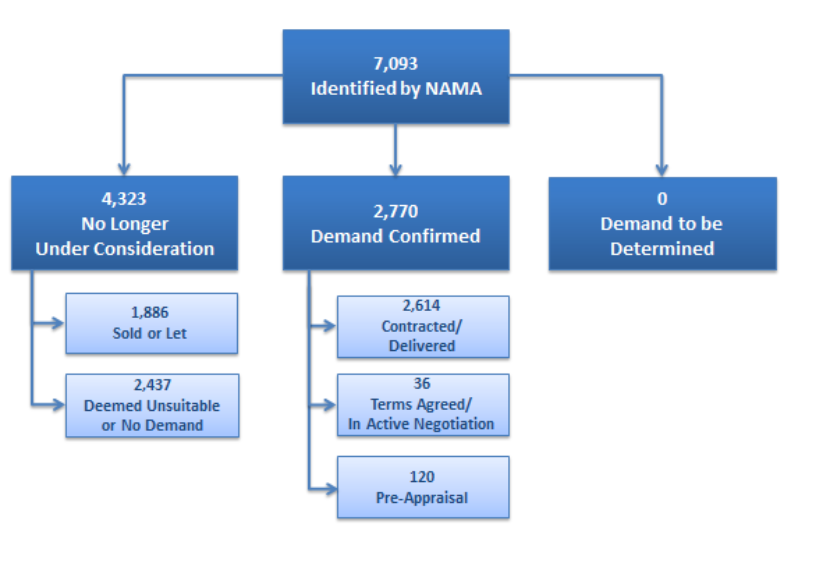 Once demand for a property has been confirmed by a local authority, NAMA facilitates contact and negotiation between its debtor or receiver and the local authority or Approved Housing Body ('AHB') to acquire the property. Contractual arrangements can take the form of a lease or purchase. In general, purchases are completed by AHBs and the properties acquired are then made available to local authorities under a payment and availability agreement.
To help further streamline delivery, NAMA also established a special purpose vehicle (National Asset Residential Property Services 'NARPS') to take direct ownership of properties where there is an established demand and to then lease these properties long-term to an AHB or Local Authority. For information on how the NARPS model operated is outlined here.
In the majority of cases, the properties acquired by NARPS are the remaining incomplete units in unfinished housing estates. In these instances, NAMA funds its debtor or receiver to complete both the properties and the wider common areas of the estate. To date, over half of the properties delivered by NAMA to AHBs/ local authorities have been made available through NARPS. Examples of properties acquired by NARPS and leased to AHBs are shown here
Social Housing (as at end-March2020) – Properties Delivered for Social Housing by Local Authority Area
| | | | |
| --- | --- | --- | --- |
| | Completed | Contracted | Total |
| Carlow Co. Co. | 103 | 0 | 103 |
| Clare Co. Co. | 55 | 0 | 55 |
| Cork City | 136 | 2 | 138 |
| Cork Co. Co. | 354 | 0 | 354 |
| Donegal Co. Co | 5 | 0 | 5 |
| Dublin City | 415 | 0 | 415 |
| Dún Laoghaire Rathdown Co. Co. | 272 | 10 | 282 |
| Fingal Co. Co. | 143 | 0 | 143 |
| Galway City Council | 196 | 0 | 196 |
| Galway Co. Co. | 32 | 0 | 32 |
| Kerry Co. Co. | 42 | 0 | 42 |
| Kildare Co. Co. | 235 | 0 | 235 |
| Kilkenny Co. Co. | 56 | 0 | 56 |
| Limerick City and County Council | 20 | 0 | 20 |
| Louth County Council | 27 | 0 | 27 |
| Laois Co. Co. | 35 | 0 | 35 |
| Meath Co. Co. | 39 | 0 | 39 |
| Monaghan Co. Co | 38 | 24 | 62 |
| Offaly Co. Co. | 30 | 0 | 30 |
| Sligo Co. Co | 4 | 0 | 4 |
| South Dublin Co. Co. | 146 | 0 | 146 |
| Waterford Co. Co. | 51 | 0 | 51 |
| Westmeath Co. Co | 20 | 0 | 20 |
| Wexford Co. Co | 102 | 9 | 111 |
| Wicklow Co. Co. | 13 | 0 | 13 |
| Grand Total | 2,569 | 45 | 2,614 |

Social Housing Delivery - By Approved Housing Body / Local Authority (as at end-March 2020)
| | | | | | |
| --- | --- | --- | --- | --- | --- |
| Completed sales | | | | | |
| County | AHB / LA | # Units Delivered | Direct Sale | NARPS Leasing | Direct Lease |
| Carlow | Carlow VHA | 8 | | 8 | |
| Carlow | Co-Operative Housing Ireland | 40 | | 40 | |
| Carlow | Respond! Housing Association | 55 | 55 | | |
| Clare | Banner Housing | 7 | 7 | | |
| Clare | Clare County Council | 17 | 11 | 6 | |
| Clare | Co-Operative Housing Ireland | 31 | | 31 | |
| Cork | Clúid Housing | 27 | 4 | 23 | |
| Cork | Co-Operative Housing Ireland | 110 | 34 | 76 | |
| Cork | Cork City Council | 53 | 53 | | |
| Cork | Cork County Council | 35 | 4 | 31 | |
| Cork | Respond! Housing Association | 35 | 1 | 34 | |
| Cork | Túath Housing | 211 | 55 | 156 | |
| Cork | Túath Housing JV with investor | 14 | 14 | | |
| Cork | Housing Agency | 5 | 5 | | |
| Donegal | Clúid Housing | 5 | 5 | | |
| Dublin | ALONE | 16 | 16 | | |
| Dublin | Circle VHA | 102 | 24 | 78 | |
| Dublin | Clanmil Ireland | 8 | | 8 | |
| Dublin | Clúid Housing | 312 | 168 | 144 | |
| Dublin | Co-Operative Housing Ireland | 13 | | 13 | |
| Dublin | Dublin City Council | 8 | | | 8 |
| Dublin | Dublin Simon | 28 | 28 | | |
| Dublin | Dun Laoghaire Rathdown Co Co | 28 | 28 | | |
| Dublin | Fingal Co Co | 25 | 25 | | |
| Dublin | Focus Ireland | 12 | | 12 | |
| Dublin | HAIL | 40 | 21 | 19 | |
| Dublin | Housing Agency | 14 | 14 | | |
| Dublin | North & East Housing Association | 45 | | 45 | |
| Dublin | Respond! Housing Association | 18 | | 18 | |
| Dublin | Túath Housing | 307 | 39 | 268 | |
| Galway | Brothers of Charity | 3 | | | 3 |
| Galway | Clúid Housing | 82 | 61 | 21 | |
| Galway | Galway City Council | 22 | 7 | | 15 |
| Galway | Galway Co Co | 8 | 8 | | |
| Galway | Túath Housing | 87 | 36 | 50 | 1 |
| Galway | Túath, Clúid and Galway Co Co | 26 | 26 | | |
| Kerry | Camphill Community Dingle | 3 | 3 | | |
| Kerry | Clúid Housing | 15 | 15 | | |
| Kerry | Le Cheile Housing | 11 | 11 | | |
| Kerry | Co-Operative Housing Ireland | 6 | | 6 | |
| Kerry | Túath Housing | 7 | | 7 | |
| Kildare | Clúid Housing | 48 | 48 | | |
| Kildare | Kildare County Council | 8 | 8 | | |
| Kildare | Túath Housing | 165 | 122 | | 43 |
| Kildare | Homeless Care | 14 | 14 | | |
| Kilkenny | Focus Ireland | 9 | | 9 | |
| Kilkenny | Housing Agency | 1 | 1 | | |
| Kilkenny | Kilkenny County Council | 11 | 11 | | |
| Kilkenny | Túath Housing | 35 | | 35 | |
| Laois | Co-Operative Housing Ireland | 35 | | 35 | |
| Limerick | Brothers of Charity | 7 | | | 7 |
| Limerick | Clúid Housing | 5 | 5 | | |
| Limerick | Focus Ireland | 4 | 4 | | |
| Limerick | Housing Agency | 4 | 4 | | |
| Louth | Drogheda Borough Council | 12 | | | 12 |
| Louth | Túath Housing | 15 | 15 | | |
| Meath | North & East Housing Association | 30 | 1 | 29 | |
| Meath | Clúid Housing | 9 | 9 | | |
| Monaghan | North & East Housing Association | 38 | | 38 | |
| Offaly | Oaklee Housing | 30 | 1 | 29 | |
| Sligo | Steer Housing | 4 | | 4 | |
| Waterford | Anvers Housing Association | 7 | 7 | | |
| Waterford | Clúid Housing | 4 | | 4 | |
| Waterford | Co-Operative Housing Ireland | 21 | | 21 | |
| Waterford | Respond! Housing Association | 19 | 19 | | |
| Westmeath | Túath Housing | 20 | 4 | 16 | |
| Wexford | Clúid Housing | 57 | 47 | 10 | |
| Wexford | Co-Operative Housing Ireland | 19 | 4 | 15 | |
| Wexford | Oaklee Housing | 24 | | 24 | |
| Wexford | Wexford County Council | 2 | 2 | | |
| Wicklow | Túath Housing | 13 | 6 | 7 | |
| | Total | 2,569 | 1,110 | 1,370 | 89 |
| Contracted Units | | | | | |
| County | AHB / LA | # Units Contracted | Direct Sale | NARPS Leasing | Direct Lease |
| Cork | Co-Operative Housing Ireland | 2 | | 2 | |
| Dublin | Dun Laoghaire Rathdown Co Co | 10 | 10 | | |
| Monaghan | North & East Housing Association | 24 | | 24 | |
| Wexford | Clúid Housing | 9 | 9 | | |
| | Total | 45 | 19 | 26 | 0 |