Development Funding
NAMA's mandate is to achieve the best financial return for the State.
NAMA's strategic planning is focused not only on the disposal of property but also on investment in assets so as to make them more attractive to purchasers and thereby enhance their ultimate disposal value. Since its inception, NAMA has, in this context, advanced substantial development funding for Irish projects, on a commercial basis. The particular focus of this funding continues to be the delivery of new houses and apartments in the larger urban areas and new Grade A office accommodation in the Dublin Docklands in response to the needs of the Irish economy.
NAMA has facilitated the delivery of 20,000 new residential properties in Dublin, the surrounding counties of Wicklow, Kildare and Meath and large urban centres such as Cork and Galway. It has also facilitated the delivery of substantial new office accommodation in the Dublin Docklands, where the Agency originally held an interest in approximately 75% of the developable land area of 22 hectares, in response to demand from both Foreign Direct Investment (FDI) and domestic employers.
20,000

residential units subject to commercial feasibility

93%

in the Greater Dublin Area

4m sq. ft.

of commercial space and 2,000 apartments could be delivered in the SDZ
NAMA's Role
NAMA does not own properties. Rather, NAMA, in its capacity as a secured lender, facilitates development via funding for viable commercial and residential development projects under the control of its debtors and receivers. Additionally, NAMA funds infrastructure works, as necessary, to facilitate commercial and residential development.
A total of €3.9 billion has been advanced by NAMA to date in capital expenditure for new and existing projects. The breakdown of capital expenditure by sector since inception is below: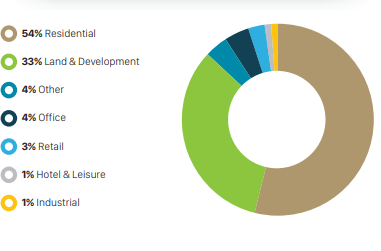 Capital expenditure by sector since inception

Residential

54%

Land & Development

33%

Other

4%

Office

4%

Retail

3%

Hotel & Leisure

1%

Industrial

1%