Financial
NAMA is making significant progress in pursuit of the primary mandate that the legislature set for us - to achieve the best financial return for the State through maximising income and managing debtors, receivers and assets to enhance value.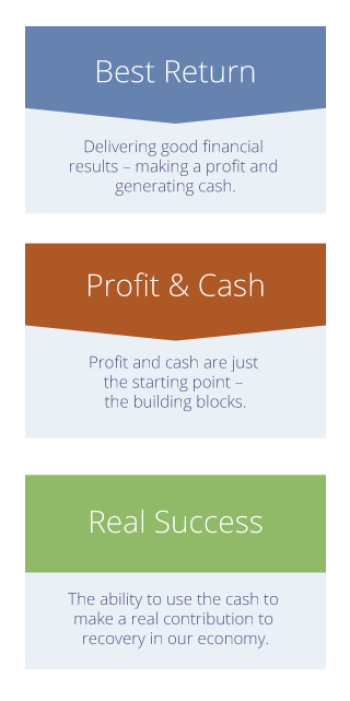 The infographic above reads:
Best Return
Delivering good financial results - making a profit and generating cash.
Profit & Cash
Profit and cash are just the starting point - the building blocks.
Real Success
The ability to use the cash to make a real contribution to recovery in our economy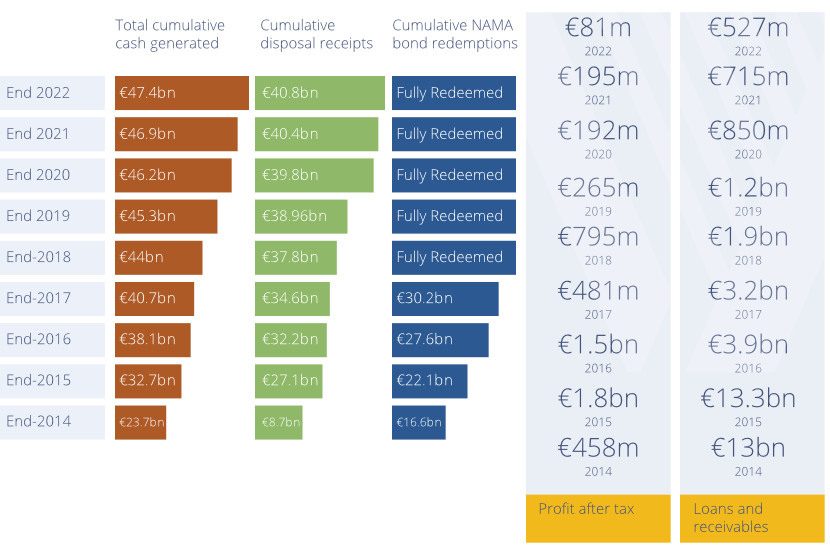 The infographic above reads:
| Year | Total cumulative cash generated | Cumulative disposal receipts | Cumulative NAMA bond redemptions |
| --- | --- | --- | --- |
| End 2022 | €47.4bn | €40.8bn | Fully Redeemed |
| End 2021 | €46.9bn | €40.4bn | Fully Redeemed |
| End 2020 | €46.2bn | €39.8bn | Fully Redeemed |
| End 2019 | €45.3bn | €38.96bn | Fully Redeemed |
| End 2018 | €44bn | €37.8bn | Fully Redeemed |
| End 2017 | €40.7bn | €34.6bn | €30.2bn |
| End 2016 | €38.1bn | €32.2bn | €27.6bn |
| End 2015 | €32.7bn | €27.1bn | €22.1bn |
| End 2014 | €23.7bn | €8.7bn | €16.6bn |
| Year | Profit after tax |
| --- | --- |
| 2022 | €81m |
| 2021 | €195m |
| 2020 | €192m |
| 2019 | €265m |
| 2018 | €795m |
| 2017 | €481m |
| 2016 | €1.5bn |
| 2015 | €1.8bn |
| 2014 | €458m |
| | |
| --- | --- |
| Year | Loans and receivables |
| 2022 | €527m |
| 2021 | €715m |
| 2020 | €850m |
| 2019 | €1.2bn |
| 2018 | €1.9bn |
| 2017 | €3.2bn |
| 2016 | €3.9bn |
| 2015 | €13.3bn |
| 2014 | €13bn |
Further information can be found in our Annual Reports and Financial Statements